Up Helly Aa - 7 day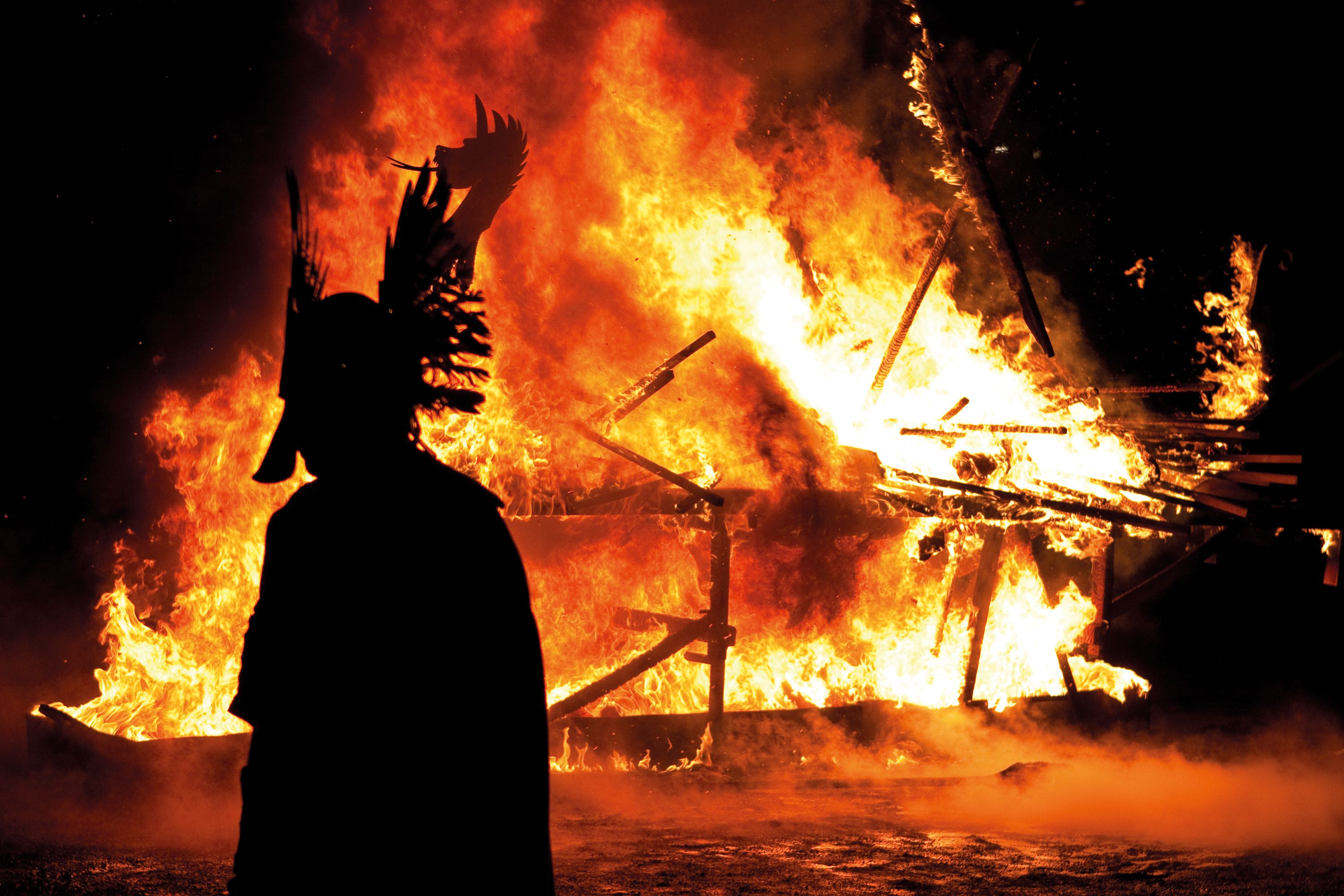 Summary
A wander through the streets of Lerwick is normally a quiet, peaceful experience, but take a walk there at the end of January and it's quite likely that you will bump into a squad of very large, very bearded Vikings, resplendent in gleaming chain-mail and winged helmets. Later, the Vikings and their fancy-dressed followers fill the narrow streets, their flaming torches illuminating the dark winter skies, their boisterous songs filling the air. A 30-foot Viking longship is carried aloft before it is set alight with a thousand blazing brands. As the sky over Lerwick shimmers with heat and light, fireworks explode, brass bands play and the gloom of winter is lifted for another year.
This is Up Helly Aa, the annual winter festival of Shetland, which celebrates the lengthening of the days and the coming of another year, not to mention the chance of a good old knees-up. It's run by Shetlanders for Shetlanders, but that's not to say visitors aren't welcome and the island hospitality will be as warm as ever.
Shetland is a beguiling place to visit at any time but in the short winter days the islands take on a special character with steely grey seas and dramatic skies. During our stay we will take in the prehistoric and Norse settlement of Jarlshof to the south, and tour as far as the islands of Yell and Unst to the north. Up Helly Aa itself is on the Tuesday, when we will have the day free to enjoy the various events in Lerwick, culminating in the torchlight procession and boat burning ceremony in the evening, the highlight of an unusual and uplifting winter break in this distant corner of Scotland.
We offer a choice of two hotels.
The Sumburgh Hotel is located at the southern end of mainland Shetland, close to Sumburgh Head and a stone's throw from the archaeological site of Jarlshof. All rooms have en-suite bathrooms together with free wi-fi, freeview TV, hairdryer and tea and coffee making facilities.
The Busta House Hotel (£240pp supplement applies), situated at Busta Voe, north of Lerwick, dates back to 1588, with a colourful history that includes tales of family feuds, secret marriages and tragic events. Today, the hotel offers all modern conveniences and comfortable, individually decorated bedrooms. The bar features a selection of around 160 malt whiskies and an open peat fire, just the place to relax in the evening. Please note the hotel does not have a lift or ground floor rooms and may not be suitable for those with limited mobility.
Up-grade to an outside cabin and enjoy sea views from the comfort of your cabin.
Outside Cabin Supplement: £70pp.
departures:Select Your Departure Date
Benefit from this limited time offer:
Save £69.75 on this tour with our current offers.
What to Expect
The fiery festival of Up Helly Aa
3000 years of archaeological history at Jarlshof
Comfortable overnight sailings with Northlink Ferries
The dramatic, rugged scenery of Yell & Unst
The picturesque village of Scalloway